Welcome to the Douglas County Genealogical Society Web site. We are a Federally chartered 501-C3 non-profit organization, and registered as such with the State of Georgia.
Our goal, here on our web site, is to provide you with information about our society and its activities. We hope to encourage you to get involved with your genealogy. We also would like to encourage you to join our society, and especially so, if your family tree has connections to Douglas County or its predecessor, Campbell County.
At this site, you will learn about our history, projects, accomplishments, people and schedule. Feel free to browse around our web site. If you have comments or questions about our products or services, or simply need more information, you may contact us by sending an e-mail to the Society President, anytime, and you will be placed in contact with the Society member most qualified to assist you. If you have comments or questions about the web site, in particular, please email the Web Master.
I have attempted to ensure that, mostly, any short term interest stuff (any pages without the normal menu seen at left) open in a new tab or window so you can just close it when you are finished.
Come back often. The site is always changing, as you can see from the Page Last Updated notification at the bottom of each page. Thank you for visiting and we look forward to serving you.
BREAKING NEWS!
Check the Events page. New photos, from the 2013 Christmas Dinner event. We had an excellent turn out, 38 people, total, and we were all well fed! If you weren't there, you missed out on a fun time.
COMING SOON!
The Douglas County Death index is in process. It lists all deaths occurring in Douglas County and provides county of residence (if available) and the Death Certificate number. It should be ready soon.
Additionally, I have a portion of the Douglas County Cemetery listings (courtesy of Roger Smith) and I will be placing these on the web site in the near future.
Just remember - maintaining this web site is a part time job, and it'll be ready wben it's ready. No data will be published before it's time. Thank you, in advance, for your patience.
General Announcements:
We still have a few members that have not provided the surnames they are reseraching, for the web site. Check on the Current Members page to see if we have your names. If not, just drop an email to the Web Master, listing the names.

Also, I am looking for any advise you might offer about the web site. Such as, what you would like to see on it or what you would like to NOT see on it. No guarantees, but any and all suggestions will be considered.

Some occasional feedback would be nice, too. Good or bad, doesn't matter - as long as I know someone is looking at the thing.
Next Meeting:

Thursday - February 27, 2014 - 6:00 p.m.

Heritage Baptist Church - 8800 Rose Avenue.
Last Program:
Next Program:
What's up with the Cemetery Comittee?
Well, for starters we got a lot done this past Thursday at Mt. Carmel. There were very few markers actually broken and in need of epoxy, and that got done first. Then lots of resetting -- some just loose on their bases and in need of setting compound -- others leaning in one direction or another.
We'll return there this Thursday. It's supposed to be a sunny day but starting off cold (23 first thing in the morning -- 53 in mid-afternoon). I think we'll start somewhat later than usual -- probably around 10:00. We can finish with the re-setting business and blow the place out as well as blowing out the little Pepper cemetery behind it in the edge of the woods.
The markers for the re-identified Ben Hill Road cemetery arrived this past week, and Deputy Penny picked them up at Jones-Wynn on Thursday. Sometime the week of March 3-7, Lt. Skinner will get them set -- no idea exactly when that will be. Also, our March 6 workday will be at the Giles cemetery. I can't believe that WSA is doing this for us. They are going to scrape the road and spread some gravel so that we can reach the cemetery. So plan on doing Giles/Dingler/Sticher that day.
See y'all Thursday morning.
Projected cleanup dates:

Revised (Tenative) Schedule for January to April

Sorted by cemetery name

Sorted by date
We talk a lot about D/2 in connection with cleaning old markers, so I thought I would post this for everyone to see. I'm sure many of you have never seen the results. It's truly amazing stuff.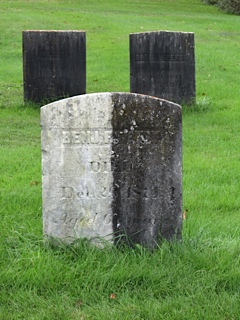 The headstone above was sprayed with D/2 Biological Solution, on the left side, in the Fall of 2010, and photographed in the Spring of 2011. The solution requires no scrubbing or washing, is biodegradable, contains no bleach, no acid, no salts, and will not harm plants, stone or you. Truly amazing stuff!
And by the way - we could still use a few more volunteers. Supervisory only, the Sheriff sends a deputy with an inmate crew to do the actual manual labor.
Also, we need you to contact us if you know of a Douglas County cemetery in need of attention. There may be some we are not aware of, so please help us out!
Contact:
Sandy Whittington
770-949-8053 (home)
404-625-3108 (mobile)
Regular Meetings
The Douglas County Genealogical Society meets on the 4th Thursday of each month, except for the November and December meetings, which are held on the 3rd Thursday of the the month, to avoid interfering with the holidays and family get-togethers.
Additionally, the December meeting is our annual Christmas Dinner, and may be held just about anywhere in Douglas County. Usually we meet at a local restaurant, but sometimes a potluck dinner at either a members home, a local businesses conference room or a local churches fellowship hall. The location will be announced by at least the November meeting, usually before, and the pertinent information, complete with directions and possibly maps, will also be posted here, under the Breaking News banner..
The regular meetings begin at 6:00 pm and are held in the Fellowship Hall (downstairs) of the Heritage Baptist Church, located at 8800 Rose Avenue, Douglasville, Georgia. The parking lot entrance is on Selman drive, just a few yards down from the traffic light at Rose Avenue and Selman Drive.
At the request of our host, we must tidy up and clear the room by 7:45 pm.