Welcome to the Douglas County Genealogical Society Web site. We are a Federally chartered 501-C3 non-profit organization, and registered as such with the State of Georgia.
Our goal, here on our web site, is to provide you with information about our society and its activities. We hope to encourage you to get involved with your genealogy. We also would like to encourage you to join our society, and especially so, if your family tree has connections to Douglas County or its predecessor, Campbell County.
At this site, you will learn about our history, projects, accomplishments, people and schedule. Feel free to browse around our web site. If you have comments or questions about our products or services, or simply need more information, you may contact us by sending an e-mail to the Society President, anytime, and you will be placed in contact with the Society member most qualified to assist you. If you have comments or questions about the web site, in particular, please email the Web Master.
I have attempted to ensure that, mostly, any short term interest stuff (any pages without the normal menu seen at left) open in a new tab or window so you can just close it when you are finished.
Come back often. The site is always changing, as you can see from the Page Last Updated notification at the bottom of each page. Thank you for visiting and we look forward to serving you.
BREAKING NEWS!
COMING SOON!
The Douglas County Death index is in process. It lists all deaths occurring in Douglas County and provides county of residence (if available) and the Death Certificate number. It should be ready soon.
Additionally, I have a portion of the Douglas County Cemetery listings (courtesy of Roger Smith) and I will be placing these on the web site in the near future.
Just remember - maintaining this web site is a part time job, and it'll be ready wben it's ready. No data will be published before it's time. Thank you, in advance, for your patience.
General Announcements:
We still have a few members that have not provided the surnames they are reseraching, for the web site. Check on the Current Members page to see if we have your names. If not, just drop an email to the Web Master, listing the names.

Also, I am looking for any advise you might offer about the web site. Such as, what you would like to see on it or what you would like to NOT see on it. No guarantees, but any and all suggestions will be considered.

Some occasional feedback would be nice, too. Good or bad, doesn't matter - as long as I know someone is looking at the thing.
Next Meeting:

Thursday - December 19, 2013 - 6:00 p.m.

Christmas Party!

NOTE: 3rd Thursday to avoid interferring with the holidays!
Last Program:
Our long time member, Roger Smith, presented an excellent program last Thursday. He laid out the meanings of testate and intestate, as well as a number of cryptic abbreviations and strange words you might encounter in your genealogical research.
Next Program:
As you probably know, our next meeting is our annual Christmas Party (in lieu of the December meeting, on the 19th of December) and will be held at:
Dinners Ready Restaurant &amp Bakery, 6405 Fairburn Road, Douglasville


This is an excellent family style restaurant, located in the Spring Market Shopping Center. In case you need to arramge for a special menu or check the availability of a certain item, the phone number is (770) 949-3009. Looks like we finally got tired of Logans Roadhouse!
January Program Preview:
The January program will be presented by Ray Henderson, a local writer and author of "The History of the Pony Club" (review here), and his most recent, "The 100 Day War," (review here)
News from the Cemetery Comittee:
What's up with Cemeteries?
After we finished our regular cemetery duties on Thursday, Teresa and I went to the Hembree cemetery to meet with the Eagle Scout advisor and see the completed grave shelter for ourselves. The Eagle candidate, Blake Dyar, has done a fantastic job -- and most of the material was provided by Bill Hembree and Jim Skinner. Many thanks to all who made this happen. Pictures made Thursday afternoon are below. If you never saw what it looked like before the work was done, here is a photo (courtesy of FindAGrave) -- it was all but gone, just hanging by a thread in 2012.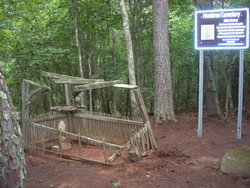 Now, here it is after the Eagle candidate finished his project.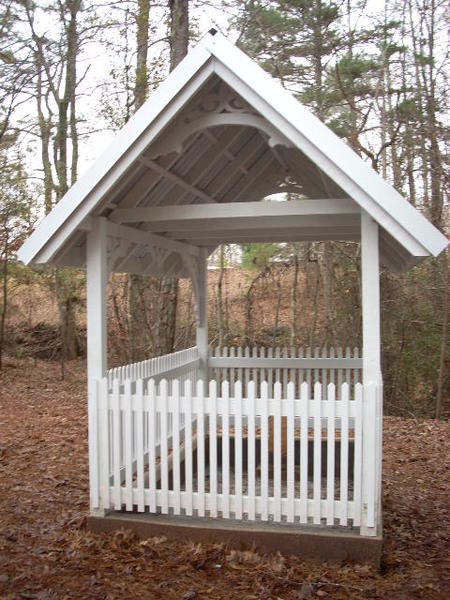 The praise seems well deserved!


Projected cleanup dates:

Sorted by cemetery name

Sorted by date
And by the way - we could still use a few more volunteers. Supervisory only, the Sheriff sends a deputy with an inmate crew to do the actual manual labor.
Also, we need you to contact us if you know of a Douglas County cemetery in need of attention. There may be some we are not aware of, so please help us out!
Contact:
Sandy Whittington
770-949-8053 (home)
404-625-3108 (mobile)
Regular Meetings
The Douglas County Genealogical Society meets on the 4th Thursday of each month, except for the November and December meetings, which are held on the 3rd Thursday of the the month, to avoid interfering with the holidays and family get-togethers.
Additionally, the December meeting is our annual Christmas Dinner, and may be held just about anywhere in Douglas County. Usually we meet at a local restaurant, but sometimes a potluck dinner at either a members home, a local businesses conference room or a local churches fellowship hall. The location will be announced by at least the November meeting, usually before, and the pertinent information, complete with directions and possibly maps, will also be posted here, under the Breaking News banner..
The regular meetings begin at 6:00 pm and are held in the Fellowship Hall (downstairs) of the Heritage Baptist Church, located at 8800 Rose Avenue, Douglasville, Georgia. The parking lot entrance is on Selman drive, just a few yards down from the traffic light at Rose Avenue and Selman Drive.
At the request of our host, we must tidy up and clear the room by 7:45 pm.